Get Involved at FA
At Foundation Academy, there are many ways to share your time and talent as a parent through volunteering. Whether you're interested in joining our parent-teacher organization PAWS, participating in our weekly Moms in Prayer Group, assisting with Athletics or our Fine Arts League, or assisting with another area in need, we have a spot for you. See how you can volunteer with FA below or submit our volunteer form now to get started.
PAWS Board & Events
Foundation Academy is blessed with a well-organized parent group called PAWS (Parent Association Working in His Service) that serves to support our school's mission and vision by partnering with families, faculty and church in promoting the school's six core values.
Our 2020-2021 PAWS Board:
President – Celeste Carr
Treasurer – Tracy Hyde
Secretary – Shelly Garrison
VP of Community Partnerships – Megan Gunter
VP of Hospitality, Lower Campus – Jessica Robb
VP of Hospitality, Upper Campus – Kelly Marcal
VP of Strategic Development & Community Engagement – Luanne Lumpkins
See all of the events our awesome PAWS board has put together for the current school year today!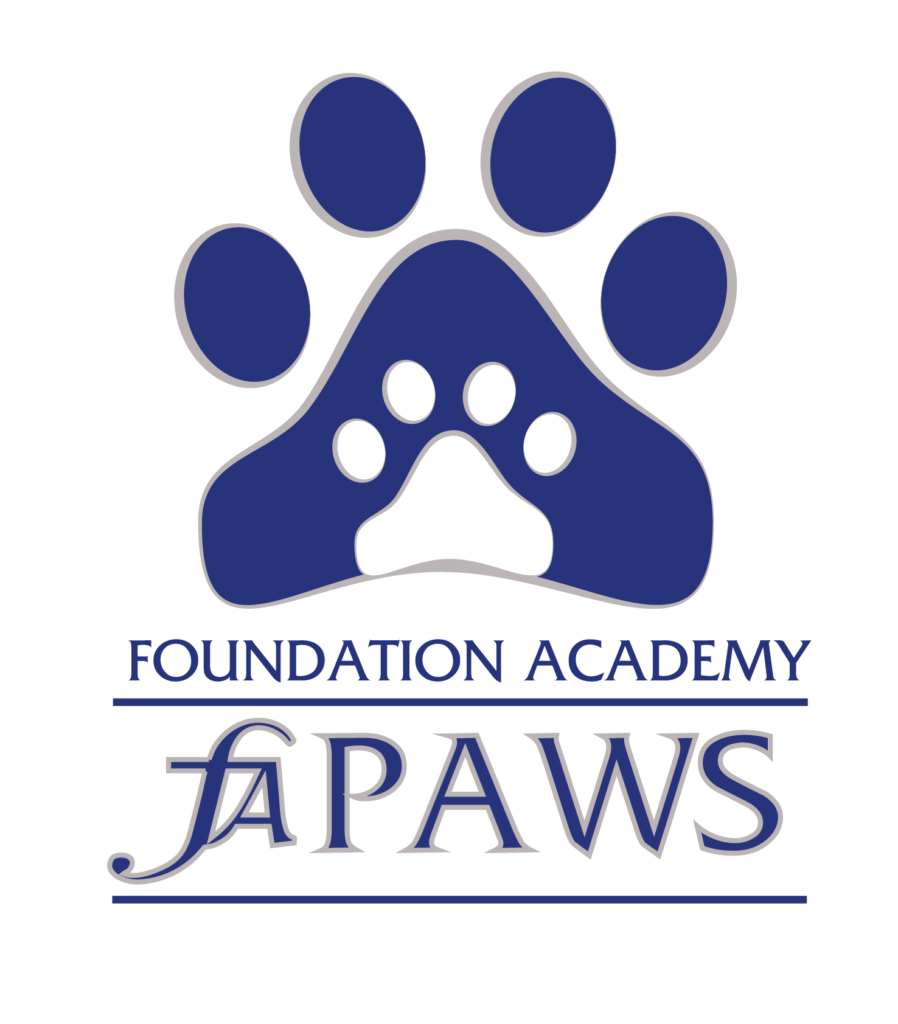 Other Volunteer Opportunities
Opportunities to serve our families, faculty, and staff include events such as Open Houses, Grandparents Day, Fall Festival, and dances. In addition support such as special occasions like Teacher Appreciation Days, Senior Surprises, Athletic events, Fundraising as well as Community Outreach.
Additional opportunities are with our Athletic Boosters, the Fine Arts League, a Parent Ambassador with our Admissions Department, aid our Advancement Office, and helping wit our weekly Moms in Prayer group.
By taking advantage of the opportunity to serve is just another demonstration of how we all can help be a partner in building a foundation for life.
Who leads the efforts of volunteering?

Mrs. Luanne Lumpkins, Director of Cultural Development and Famly Enrichment does. In addition, she also serves on the boards for each of our special interest groups.
Can I volunteer for just one specific event?

You sure can! You can volunteer for as many or as few as fits your wishes.
Is it possible to serve in multiple capacities?

Yes! Each special interest group has specific needs for volunteers. However, you can only serve on one board from each special interest group.
Are there opportunities that varying in regards to time of the day?

Yes, Foundation Academy has opportunities to volunteer day, night, and weekends. So there is plenty of opportunities to get involved.
What is the easiest way to get involved?

The easiest way is to complete the volunteer form online or you are free to contact Luanne Lumpkins directly at luanne.lumpkins@foundationacademy.net or call 407.877.2744.
Do all three campuses have volunteering opportunities?

Absolutely, each campus has its own unique need for volunteers to help further the mission of Foundation Academy.
FAQs About Volunteering
Becoming a volunteer and being an integral part is easy, however, you may have some questions. Please review some of these frequently asked questions. Hopefully, this will provide some insight.
In the event you need additional assistance please feel free to contact our Director of Cultural Development and Famly Enrichment, Mrs. Luanne Lumpkins.
Sign Up to Volunteer
We are so thankful for our current volunteers and for your interest in joining us! To get started, complete the form below (please complete one form per parent/guardian/grandparent/volunteer).